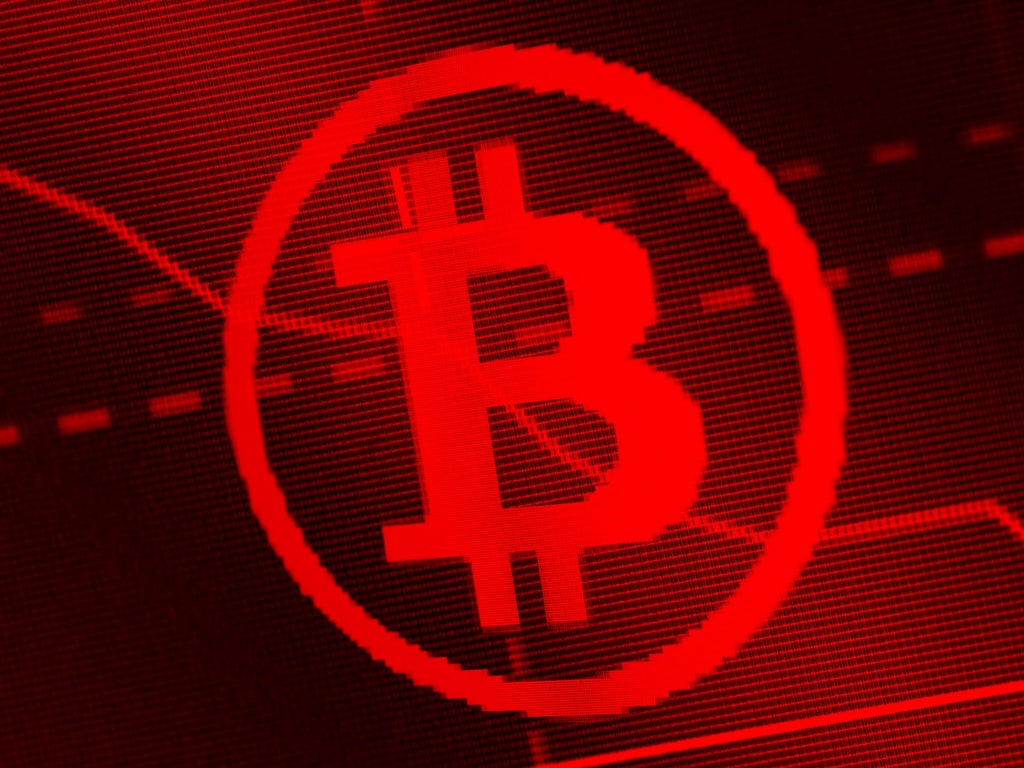 Four straight days of tumbling prices has seen bitcoin fall to its lowest price since July 2021.
The price crash has coincided with a downturn in the broader financial markets, which has rippled across to other leading cryptocurrencies like Ethereum (ETH) and Solana (SOL).
The overall crypto market is now worth just over $1.5 trillion, down by roughly half its all-time high last November.
Analysts appear divided over whether the latest collapse is part of a longer-term trend, or just a temporary dip in what has been an exceptionally bumpy year for bitcoin.
Falling below $33,000 on Monday leaves bitcoin just 10 per cent away from the critical $30,000 support level, which experts say could prove a key testing ground for BTC and its future price trajectory.
You can follow all the latest news, analysis and expert price predictions for bitcoin and the rest of the crypto market right here.
1652125221
El Salvador buys the dip
El Salvador President Nayib Bukele has just tweeted that his government just "bought the dip".
The world's first country to adopt bitcoin as a legal form of tender bought 500 coins at an average USD price of ~$30,744 ($15,372,000), Bukele revealed, marking his country's 10th purchase of the cryptocurrency.
It is the lowest price El Salvador has ever paid for bitcoin, as well as the most bitcoins ever bought in one go, having never purchased more than 420 at once.
Anthony Cuthbertson9 May 2022 20:40
1652119932
Bitcoin price tests $31,000
Bitcoin is getting closer to its next major level of resistance, falling below $32,000 to just $31,277, according to CoinMarketCap's price index.
Since first breaking above $30,000 at the start of last year, this level has proved a firm platform from which bitcoin has bounced back from. After a flash crash took it briefly below it in July, bitcoin went on a record-breaking price rally that took it to a new all-time high of close to $69,000 in the space of just four months.
A move of less than 5 per cent would take bitcoin back to this level, which is relatively minor by bitcoin's notoriously volatile standards – it is down 8 per cent just today. If it fails to hold that level, bitcoin will be in unchartered territory, with no historic levels of support for quite a way down. The coming hours and days could prove crucial in determining bitcoin's longer term trajectory.
Anthony Cuthbertson9 May 2022 19:12
1652116387
Bitcoin 'will crash below $10k'
Prominent bitcoin skeptic Peter Schiff believes the current price slide may be far from over.
Having dipped below $33,000, the American stock broker tweeted that the "next stop is $30k". He added: "If that level fails look out below. Bitcoin will crash below $10k."
It is not the first time Schiff has predicted a near-absolute capitulation for bitcoin, with his proclamations often coming near the bottom of a cycle. This has led some to use his bearish comments as a buy-signal, with one Redditor writing in response to his comments that it was the "positive signal" they had been waiting for to buy more bitcoin.
Noted bitcoin advocate and investor Anthony Pompliano mocked Schiff's prediction with his own tweet.
"If a nuclear attack happens, we all may die," he wrote. "If we don't die, an asteroid may hit the Earth and kill us. If we don't die from that, another pandemic could take us out. And if none of that gets us, we just have to wait long enough and then we'll die for sure."
Anthony Cuthbertson9 May 2022 18:13
1652109699
MicroStrategy boss responds to bitcoin price crash
MicroStrategy CEO Michael Saylor, who heads the world's largest corporate investor in bitcoin, has joked that the latest price crash has caused him to lose his job at the software firm.
The company holds more than 120,000 BTC, worth roughly $4 billion at today's prices, bit despite the dip, Saylor is unlikely to sell any time soon.
He is a vocal advocate for holding the cryptocurrency for the long term. MicroStrategy also acquired its holdings at an average price of just over $30,000 per bitcoin, so technically the company hasn't actually lost money on its investment.
Anthony Cuthbertson9 May 2022 16:21
1652105230
Bitcoin's yearly price lows offer perspective
There seem to be certain recurring themes of bitcoin price crashes – which come around not infrequently – as people try to calm their fellow investors.
One popular chart that is shared encourages people to not look at all-time highs, but rather yearly lows. This shows the progress bitcoin has made over the last decade, with annual price bottoms rising from $4 in 2012 to $25,000 in 2021.
Anthony Cuthbertson9 May 2022 15:07
1652104261
Bitcoin price crash doesn't deter long-term holders
Despite bitcoin's recent price slide, some crypto market analysts are remaining positive about the overall outlook for the cryptocurrency.
One metric that investors can take encouragement from is that long-term holders of bitcoin do not appear to be selling their crypto stash. Marcus Sotiriou, an analyst at the UK-based digital asset broker GlobalBlock, claims that this on-chain metric means bitcoin remains "incredibly bullish", and suggests a bounce back at the key support level of around $30,000.
Here are his full comments:
Anthony Cuthbertson9 May 2022 14:51
1652102864
Bitcoin market enters 'extreme fear'
The latest Crypto Fear & Greed Index shows that the bitcoin market is at just 11 – deep into the "extreme fear" territory.
The index compiles data from crypto exchanges with daily online trends to analyse general market sentiment.
It is currently at the lowest level it has been at all year, which some analysts use as a measure to suggest that bitcoin is currently oversold.
Anthony Cuthbertson9 May 2022 14:27
1652098979
Bitcoin price crash caused by 'wider adversity'
Crypto market analysts have offered us their insights into what is behind the latest price crash for bitcoin.
"The market is caught in the wider adversity of investment markets that are battling to decide where confortable levels are in the wake of interest rate hikes designed to quell soaring inflation around the Western world," says Simon Peters, from the online trading platform eToro. "The concern now for cryptoasset investors is when the slide will end."
You can read the full story here.
Anthony Cuthbertson9 May 2022 13:22
1652097658
Hello and welcome…
to The Independent's live coverage of the crypto market.
Several days of tumbling prices has seen bitcoin fall to a 2022 low on Monday, leaving traders and investors wondering when the sell-off will come to an end.
We'll have all the latest news, analysis and expert price predictions for bitcoin and the rest of the cryptocurrency market right here.
Anthony Cuthbertson9 May 2022 13:00