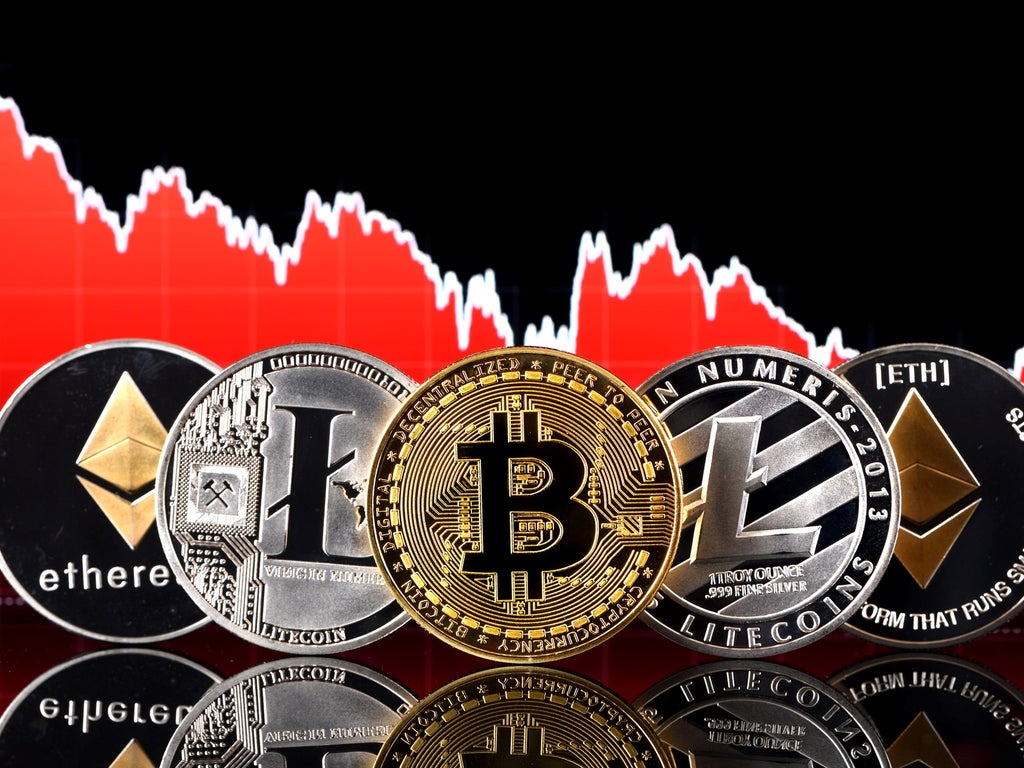 A dramatic meltdown in bitcoin and other cryptocurrency appears to have slowed, with investors left counting their losses after one of the most dramatic plunges in recent times.
The whole market is still significantly down over the last week. Ethereum, for instance, has been particularly hard hit and lost 24 per cent of its value in the last seven days.
There are signs that dramatic fall could be turning around, however. Bitcoin is up 14 per cent over the last day – and back through the important psychological milestone of $30,000 – and the market as a whole is up 13.5 per cent.
Fear shook the market this week after the Terra (LUNA) cryptocurrency fell by more than 99 per cent overnight, and the wider crash has pushed another stablecoin, Tether, below its dollar peg.
You can follow all the latest news, analysis and expert price predictions for bitcoin, as well as other leading cryptocurrencies like Ethereum (ETH), Solana (SOL) and Cardano (ADA), right here.
1652435335
Bitcoin, altcoin prices surge as market meltdown slows
The overall crypto market has surged by nearly 10 per cent in the last day following its dramatic crash on Thursday.
Bitcoin has surged in price by about 9 per cent in the last 24 hours, inching close to $30,500.
The leading cryptocurrency is still down by over 15 per cent compared to its value a week earlier.
Ethereum has also grown by about 9 per cent in the last day.
Cardano, dogecoin, polkadot, and avalanche have each risen by over 20 per cent in the last 24 hours as Thursday's crypto market meltdown appears to be slowing down.
The crypto market is currently valued at $ 1.3 tn, which is still close to half of its value last November.
Vishwam Sankaran13 May 2022 10:48
1652472017
Want to know what will happen to bitcoin's price now, and how we got to where we are?
The Independent's crypto expert Anthony Cuthebertson explains how there could be a market-wide recovery.
Adam Smith13 May 2022 21:00
1652468417
For some, that volatility is a fun or valuable thing about cryptocurrencies, as people look to make money by trading them. But it is also means that they are a dangerous store of value, and are impractical to use in actual transactions.
Stablecoins are meant to solve that by giving a constant exchange rate with the dollar, making them easy to value and theoretically more akin to actual cash.
But in recent days, stablecoins have proven to be anything but – with not only their own prices collapsing but that collapse helping bring about chaos right across the cryptocurrency markets.
Adam Smith13 May 2022 20:00
1652464817
Analysis by the University of Cambridge suggests the Bitcoin network uses more than 121 terawatt-hours (TWh) annually, which would rank it in the top 30 electricity consumers worldwide if it were a country.
Concerns about Bitcoin's energy demands have been around since the very beginning, with crypto pioneer Hal Finney tweeting about potential future CO2 emissions on 27 January 2009 – just two weeks after receiving the first ever Bitcoin transaction from the cryptocurrency's pseudonymous creator Satoshi Nakamoto.
The amount of energy Bitcoin's network consumes did not rise to serious prominence until 2017, when a major price rally drastically pushed up its energy needs to the level of a small country. As the market cooled off in the years following, so did the energy demands, but the latest all-time high hit this week is more than double that of three and a half years ago. And this time its energy requirements are even greater.
"Bitcoin's energy consumption has more than quadrupled since the beginning of its last peak in 2017 and it is set to get worse because energy inefficiency is built into Bitcoin's DNA," Charles Hoskinson, CEO of leading cryptography firm IOHK, toldThe Independent.
Adam Smith13 May 2022 19:00
1652461217
"I lost all my life savings," one member of the r/TerraLuna sub-Reddit wrote. "Had bought Luna at $85, not sure what to do."
Another wrote that they had lost $15,000 after failing to sell their holdings for a substantial profit when it was trading above $100 last month.
"I should've cashed out when it was $100, then I would have been up $25,000," wrote Reddit user No-Forever. "But I got greedy hoping to get more money so I can at least afford a downpayment for a house for my family. I guess no house and savings then."
Adam Smith13 May 2022 18:00
1652458186
Coinbase's chief exectutive has said that the Luna blockchain will resume.
"Was in a no-phone meeting for 2hrs. At least, there is progress", he tweeted," Luna blockchain resumed, no more minting. And deposits, withdrawals and trading resumed. Trading is important for existing holders. Please do NOT buy a coin just because trading is on. DYOR! EXTREME caution!"
Adam Smith13 May 2022 17:09
1652456647
"The Luna/UST situation has hit market confidence quite badly. Overall most cryptocurrencies are down [more than] 50%. Combining this with global inflation and growth fears, does not bode well in general for crypto," said Vijay Ayyar, vice president of corporate development and international at crypto exchange Luno told CNBC.
"In such markets, its normal to see bounces amounting to 10-30%. These are normally bear market bounces, testing previous support levels as resistance," Ayyar said.
Adam Smith13 May 2022 16:44
1652455616
Crypto.com is reversing some Luna trades.
"On 12 May 2022 between 12:40 – 13:39 (UTC) users who traded LUNA were quoted an incorrect price. Our systems quickly detected the error and trading was halted. Trading remains halted until further notice", a statement on its website reads.
"All impacted trades (buy and sell) will be reversed, and affected users will be credited USD $10 in CRO for the inconvenience caused. Affected users are being informed via email."
Adam Smith13 May 2022 16:26
1652453145
Sam Bankman-Fried, co-founder of exchange FTX and investment and market making firm Alameda Research, said on Thursday that "the real, honest answer is that, probably, either UST or LUNA have to go to 0 (or both)", according to Techcrunch.
"There's no way to save both of them. (And it's not clear as of now that there's any way to save UST's peg even if you sacrifice LUNA.)," said Bankman-Fried,
Adam Smith13 May 2022 15:45
1652451998
The amount that Luna has dropped in the wake of this crash is devastating
Adam Smith13 May 2022 15:26